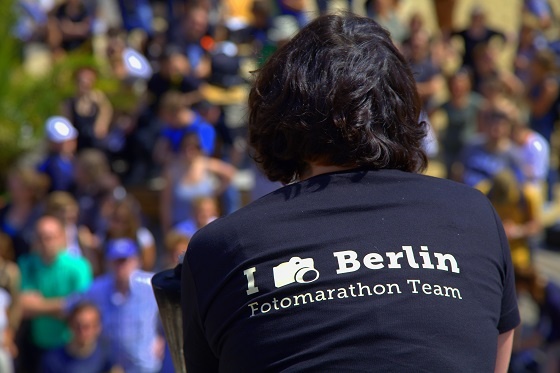 The Fotomarathon is organised exclusively by a group of enthusiastic volunteers, who also have full time jobs in many different areas during the day, all week long. The current team includes people working in engineering & architecture, computer science, biology and political science…but we all love photography and Berlin. The Fotomarathon gives us a chance to be creators and creative. The Fotomarathon offers photo enthusiasts a chance to spend a full day immersed in photography -and an opportunity to see their photos in a collective exhibition. And you can not only be a part of that, but be in the middle of it!
After the Fotomarathon is before the Fotomarathon.  Preparations for the Fotomarathon are always under way…sometimes in slow motion, some other times in high speed -as the fotomarathon day gets closer.We do a lot of work behind the scenes to make sure that the annual Fotomarathon is a success.
There are lots of areas where you can put your talents to work. If you have been a participant, this is your chance to help shape the Fotomarathon in Berlin and be part of a unique event in the cultural landscape of this city.
Here are some examples of ways in which you can help:
Design our flyers, postcards, and online communication materials.
Write text for our newsletter, website and print materials.
Share news on our social media channels
Find cool locations for us to host the Fotomarathon and the exhibition
Help with general tasks during the Fotomarathon day and the exhibition, such as:
– Taking photos during the events, to document the day and use in our promotional materials.
– Helping set up the photos for the exhibition (to take place in July)
– Helping new participants register during the Fotomarathon day (in June)
If you think you can contribute in any of these areas and put your talents to good use, drop us a line at kontakt@fotomarathon.de so we can meet you and tell you more about it.
What about the language?
If you are a Berliner by choice, and your German is not totally up to par yet, don't worry. The team is fully bilingual, and work in these areas can be done in English, plus, working together with the enthusiastic team can help improve your German. Should you be interested to support us in these two categories, please drop us a line at kontakt@fotomarathon.de.