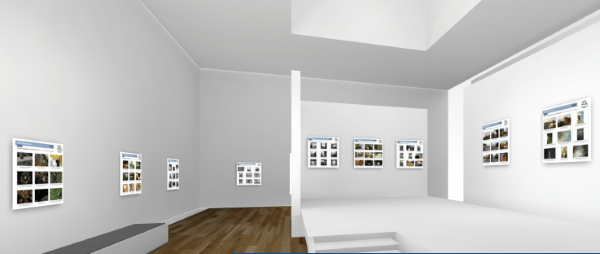 This year, the Fotomarathon exhibition has turned into an innovative 3D online space that visitors can visit with the click of a mouse. We definitely missed welcoming so many participants and their families, as is usually the case with the exhibition. Instead, an online exhibition is now available for participants coming from many cities in Germany and Europe and for people from all over the world. It will be available from 19. December 2020 until 10. February 2021.
We congratulate the winners and all participants who took up the challenge of a photo marathon under the still extreme conditions of a global pandemic. The winning series all tell stories that reflect this time and that address the motto "If on a winter night a traveller…" in an innovative and diverse way.
There are two exhibition rooms to visit – as it was not technically possible to fit all the photos into a single room. Please be patient if the exhibition images take a few seconds to load. At the end of this post we have prepared a quick guide to help visitors navigate the exhibition and find the photo series. Should the images fail to load, click HERE to see the exhibition outside the Fotomarathon website.
If the images fail to load or take too long, you can see the exhibition in an external platform following this LINK
Brief guide
Visitors can wander through the two large rooms and admire the photo series of around 130 participants – both digital and analog. The 10 winning photo series are accompanied by an audio testimonial from the jury members -in German with some bits in English. Simply click on the winning series to hear their words.
By clicking on the menu (top right) you can switch to full screen mode, start a guided tour or find a list of all photo series. The list is sorted numerically, so visitors can directly find a specific series. Clicking on the marker takes you directly to that series.
Award Ceremony online – live stream
On Saturday, December 19, we presented the winning series via a live stream on You Tube. We recorded the ceremony and the quick tour through the exhibition and made it available online for a limited time on our YouTube channel:
We hope you will enjoy visiting the exhibition. When the exhibition is over, we will also show the winning series here on the fotomarathon website…but only in the new year.
Here are the links to the exhibition again! Enjoy!
| Room 1: Series 1011 – 1115 + Winning Series | Room 2: Series 1116 -1151 + Analogue Series |
| --- | --- |
| | |